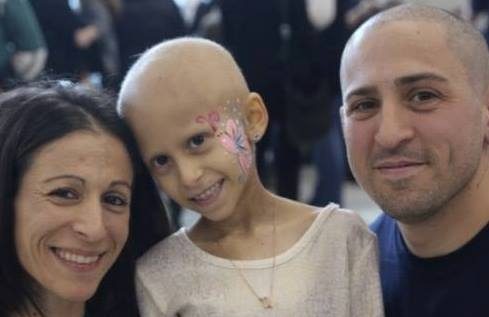 Gia and the Gentiles
In just two short weeks in 2017, the Gentile family hosted several fundraisers, including "Gia's Glam Gala," raising nearly $65,000 for Band of Parents.
So in the middle of October, Gia started to have pain in her lower leg, it moved to her shoulder, her back, and she had a low-grade fever, and this persists for a few weeks. I knew in my heart there was something not right. We went to the emergency room twice. We went to our pediatrician twice. We went to urgent care twice, even to an orthopedist. Everyone kept telling me, "It's fibromuscular. Don't worry about it. She's gonna be okay. She's fine." Until the point where she couldn't even move, crying in pain, and she had 104 fever, anemic, and we said, "This isn't right." We went back to the hospital and that's where they admitted her. After a week and a half of tests and biopsies and scans, the news that no parent wants to hear is your daughter has stage 4 high-risk neuroblastoma. From there, we knew we needed to go to the best place possible for Gia, and that's why went to Memorial Sloan Kettering.
When we found the Band of Parents, we knew right away that there were other parents like us.  That have went through this journey with their child, or our experience in this journey. Someone that we can talk to. Someone that we can get advice from. Someone that can explain what's going on with our daughter. Sometimes, the doctors are there for you, but not the same as a mom that's gone through this, or a dad that's gone through this. Someone that can put our angst and just tell us it's okay, and that's exactly what Jill did that first night on the phone with me is that it's going to be okay. Just relax, and we'll help you through this. Checking in to see that support for us, and that's what's really also gets you through this, is other parents that have been through this journey. To guide you through it, 'cause that's what you need, and that's why the Band of Parents has been so important to us.
There's a reason why we were placed in this spot, and it's how we deal with it is what's going to make all the difference. We planned this beautiful gala that Gia helped. Gia's Glam Gala. She helped with all the details, and we had the most amazing outpour of support, within minutes that we put it on Facebook. Hundreds of our family and friends. "I'll do this, I'll donate that." This was only possible from the support from our family, our friends, our colleagues and complete strangers, that made our event into a success… because everyone realizes, this was Gia, but it could have been anybody.
As told by Dana Gentile, 3/26/17