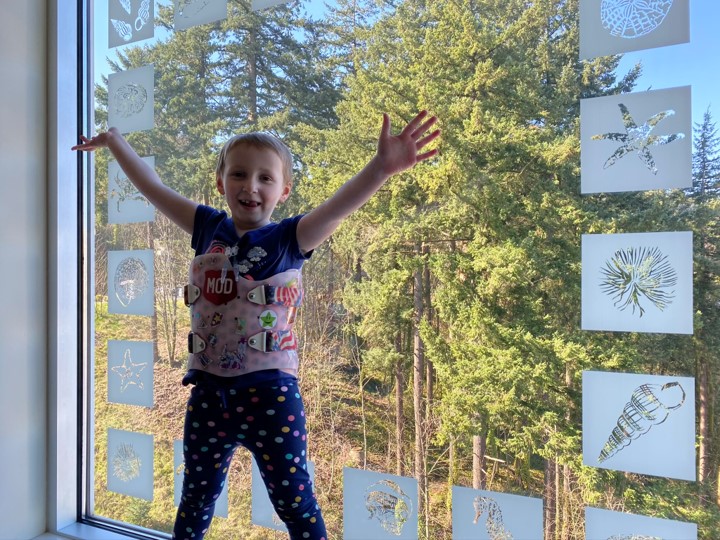 Evelyn Allen
We'd like to introduce you to our warrior princess, Evelyn Allen. The most strong-willed, empathetic, kind, loving and determined kid you can imagine. She's a dancer, singer, and performer.  She lights up every room she walks into.
Evelyn was diagnosed with high-risk stage 4 neuroblastoma a few months before she turned 4 years old. We had been going back to the doctor constantly because we knew that something was wrong. Finally, an MRI revealed the reason why our little girl was breaking into tears at night from back pain and would no longer challenge daddy and mommy to a race into daycare. Neuro-frickin-blastoma! Cue the denial, anger, depression, bargaining, and finally acceptance.
Though Evelyn probably asked, "why me?" a few times, that's not what we remember. Perhaps it was the confidence of youth – she knew the doctors would fix what was hurting her, but she seemed to take everything in stride. Sure, getting used to blood draws, anesthesia, bone marrow biopsies, and dressing changes were a challenge, but we honestly couldn't have been blessed with a tougher, more determined kid. We did everything in our power to make our time at the hospital a positive memory. Walkie-talkie hide and seek in the ward, check! Scooter races using an extra bed sheet to tie the scooter to the IV pole, check! Visitors with churros as often as possible, check!  Somehow, I think we may have managed to leave her with positive memories of the hospital, despite all the horrors she had to endure along the way.
As we approached the end of treatment, my beloved wife, active in the neuroblastoma Facebook community, became aware of the experimental vaccine trial being offered at Memorial Sloan Kettering in New York which was funded through donations to Band of Parents. This was early in the pandemic when New York was getting hammered with Covid. Luckily as fortune would have it, Covid crested in New York and the Northeast quickly became one of the safest places in the country in terms of covid positivity. We got into contact with MSK and just decided to go for it. The family boarded a plane and flew across the country. While initially our insurance had not approved our participation in the trial and we were unsure how to pay medical bills; some things we never had to worry about were, transportation to and from the airport (shout out to Dial 7 car service), lodging (shout out to Residence Inn Midtown), and an extremely yummy pizza dinner (shout out to Uncle Paul's Pizza) on Wednesday nights, all courtesy of Band of Parents. There is absolutely no way our family of 4 could have lived in New York City without the help of Band of Parents. Number one, we would not have ever had the opportunity to participate in the potentially life-saving trial if not for their funding, but we also could not have afforded traveling so far away from home if it wasn't for their support. They made it possible for us to make happy memories of our stays in New York, and for that, we are forever grateful.
So many stars had to align for Evelyn's treatment to be effective, the timing to work out so that we could get to New York City during a global pandemic, an outside entity review that required our insurance to cover the medical costs so that we didn't have to declare medical bankruptcy, and Band of Parents making it so that we could stay affordably, as a family, in the heart of New York City.
Our family cannot thank the Band of Parents enough for their generosity. As parents, we will never be able to express our gratitude to the countless individuals and organizations who helped Evelyn to rid her body of neuroblastoma. We know how lucky we are to be where we are today. Thank you Band of Parents for being a part of our miracle story!  For as long as we live, whenever anybody we come across is wondering about a worthy organization to donate funds to, Band of Parents is at the top of the list. It's organizations like theirs that are going to rid the world the nightmare disease that is childhood cancer.
With full hearts,
Dustin and Stephanie Allen