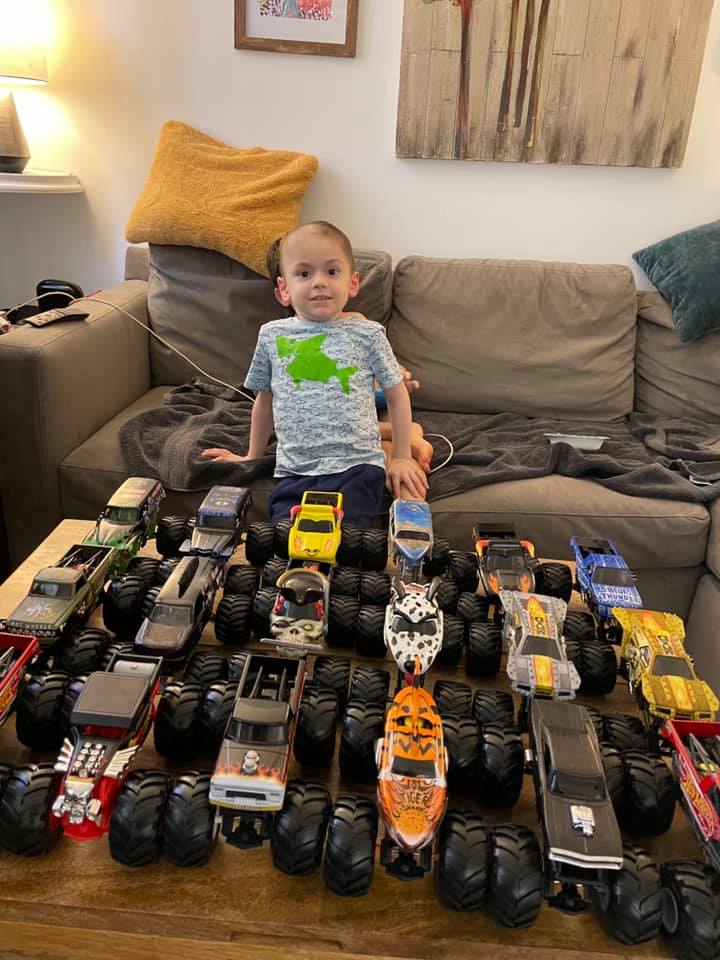 Henry (Hank) Carpenter
Henry (Hank) Carpenter was diagnosed with High-Risk Neuroblastoma in February 2020.
Hank is the youngest of three. From infancy he was trying to keep up with his brother and sister. He was walking early and running as soon as he could in order to keep up. He loves his family and monster trucks deeply. We lovingly call him Hank the Tank. His toughness has been a character trait since birth. Nothing is cuter than his mischievous smile and laugh.
Hank is much taller than your average 3-year-old; he was literally off the growth charts with every visit to the doctor. None of his routine check-ups showed any indication that cancer was secretly growing in his little body. Several weeks after his second birthday, my sister noticed a bump on his head. Since he was an active 2-year-old, she thought it was strange that she didn't see him fall but chalked it up to that. When the bump was still there a couple days later, she put a call into their pediatrician. The doctor thought it was odd when he saw no signs of bruising and called for an MRI. At this point my sister felt a sense of urgency and pushed for the MRI as soon as possible. When the results came back, they were rushed to the hospital and told it was most likely cancer.
From that moment forward Hank has been under-going intensive treatment for High-Risk Neuroblastoma. It had spread from the original tumor on his adrenal gland to his bones and then to his head where the bump was first noticed. Since diagnosis he has undergone many rounds of chemotherapy, immunotherapy, stem cell collection, an intensive radiation treatment called MIBG, and major surgery to extract the main tumor.
By the end of 2020, it became clear that the treatment options in the Bay Area had been exhausted and his cancer was still progressing. In January 2021, my sister and Hank moved to New York City to get treatment at Memorial Sloan Kettering Cancer Center where they specialize in Neuroblastoma. My brother-in-law and their other children remain in California for work and school, leaving them separated for an undetermined amount of time. Recent scans showed that the cancer had spread to Hank's brain which has prolonged treatment in New York.
The road is long but our Hank is strong and as much of a fighter as he is tall! His bravery and perseverance bring us so much strength and hope.
Organizations like Band of Parents also bring us hope. Band of Parents is behind the funding of ground-breaking and life-saving therapies that are increasing the survival rate for neuroblastoma patients. If you have not donated in a while, please consider supporting Band of Parents and our fight against this horrible disease. Every dollar counts and no donation is too small. Thank you!
With hope,
Jenny Finke (Hank's proud aunt)
P.S. If you would like to follow Hank and his family on Facebook: https://www.facebook.com/groups/fightforhankthetank/