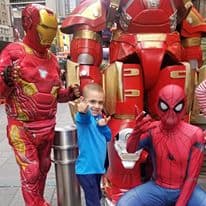 Michael Esquivel
Michael is 6 years old and loves being outside, playing with his sisters and going to school. In September 2014 at 9 months old, with no symptoms other than a larger baby belly, we received the devastating news that Michael had Stage 4 Neuroblastoma. An ultrasound showed a large abdominal tumor. Scans showed cancer head to toe, in bones and bone marrow. Our world was flipped upside down and chemotherapy began immediately at our local children's hospital in Illinois.
After 8 months of chemo, Michael's cancer miraculously disappeared, surgery was cancelled and he was declared in remission! Four years later while changing his pajamas, we noticed a golf ball size lump in his armpit that appeared overnight. We knew the cancer was back. He started high risk protocol at our home hospital but we also contacted Dr. Modak at Memorial Sloan Kettering (MSKCC) for a second opinion. This would be more challenging for our family – balancing travel out of state and new, infant twin girls, but we knew it was the right choice.
Michael started Hu3f8 immunotherapy at MSKCC, spending 10 days in NYC every month for 10 months. He missed 53 days of kindergarten. He had 2 more focal relapses which required chemo, surgery and radiation and ultimately turned into an 8-week stay in NYC in Spring 2020. Ronald McDonald House closed many of its facilities due to COVID-19, which left us scrambling to find lodging. Band of Parents came to the rescue providing subsidized hotel rooms for families as well as safe rides to and from the radiation center so we could avoid taxis and public transit.
Band of Parents stepped in during a time of crisis and we are grateful. More importantly, their on-going mission is to help fund new treatments to advance childhood cancer research, which is so poorly underfunded. Michael is brave and resilient despite cancer disrupting his childhood, and he always finds joy while making others smile too. He is still fighting this beast while preparing to start first grade. Please donate to fund research for life-saving treatments so that kids like Michael can live a long life filled with joy!
With hope,
Jesse, Kelly and Michael Esquivel