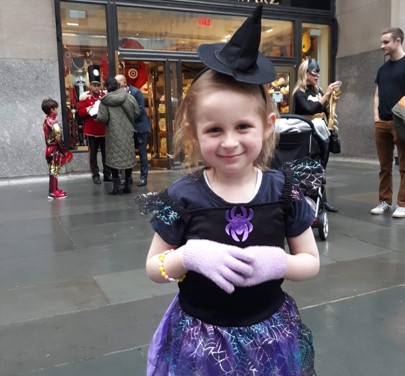 Eleanor
We would like to introduce you to Eleanor. She is five years old, her favorite color is purple, she loves going to any zoo and she has a very cheeky sense of humor. She is the best big sister to her brothers George and Joey and we are all from a town called Hobart in Australia.
Eleanor was diagnosed with stage four, high risk neuroblastoma in January 2018 when she was 18 months old. Eleanor completed her frontline treatment in Melbourne, Australia and was clear of disease in April 2019. Three months later, one day after her third birthday, we discovered through her routine scans that she had suffered a CNS relapse in her brain. This took our family to Columbus, Ohio where she participated in the 8H9 omburtamab trial at Nationwide Children's Hospital. Eleanor was able to finish the last component of the protocol back at home in Hobart.
Upon completion of the 8H9 protocol, we knew we wanted to enroll Eleanor in the vaccine trial at Memorial Sloan Kettering. She had come so far we wanted to do everything in our power to ensure she lives a happy and healthy life. Being in the middle of the Covid pandemic, and from Australia, posed significant problems. Our country had extremely strict border controls, which meant in order to make the trial work we would have to be in New York for numerous months due to needing to quarantine on return.
We reached out to Band of Parents and straight away, they returned emails offering subsidized accommodation in New York for our two-month stay. Without their help, it would have made the travel nearly impossible. Their contribution to Eleanor's hope of survival is extremely significant. During our stay, they funded transportation to and from the airport (which was so helpful after 30 plus hours travel time), provided us with yummy Wednesday night pizza and subsidized our accommodation. They provided outstanding support to us whilst we were travelling in a pandemic and away from our home.
Band of Parents not only provide immediate assistance to families like ours, but also much-needed funds for research to find a cure for children with neuroblastoma. They are making a huge difference. Thank you so much to Band of Parents, for the contribution to help our beloved daughter, Eleanor and for helping all the beautiful children in the world diagnosed with neuroblastoma.
If you have donated recently, thank you so much! If you haven't donated in a while, please consider making a gift in recognition of International Childhood Cancer Day.
With hope,
The Oakley Family (Jacqui, Rob, Eleanor, George and Joey)